2012 Fun watch now
The Important Stuff Isn't Boring
Really, it's not. And when you need to get the 411 on what to do and when to do it, you'll find it here.
In the pages in this section, you can familiarize yourself with specific information on preparing for camp, getting to camp, details on the camp sessions themselves, and end of camp procedures.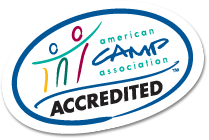 Camp Wingate*Kirkland is accredited by the American Camp Association (ACA). To learn more about the ACA and the high standards they hold us to visit, please visit their website.
Getting ready for camp? The Family Handbook now lives here on our website! All of the information is sorted by section – look to the right!
Camp Calendar 2013
Opening Day
Wednesday, June 26 , 2013
Visiting Day & End of 1st Session
Saturday, July 20, 2013
2nd Session & Mini Camp Begins
Sunday, July 21, 2013
Last Day of Mini Camp
Sunday, August 4, 2013
Closing Day
Tuesday, August 13, 2013
Mega Reunion
Sunday, November 10, 2013
Blog Posts for parents
To view more and to keep up with all of the latest news from camp, please visit our blog. And don't forgot to like us on Facebook.